About us - Woolrych Computer Services Ltd
We specialise in providing personal service, with reliable after sales care.
Established in 1998 Woolrych Computer Services Ltd is now a well established computer sales and consultancy business, backed by over 30 years of experience in IT. In April 2003 we became a Limited Liability Company.
If you are looking to upgrade, replace or purchase new computer equipment and would like sensible advice tailored to your needs then we can help you. Advice is free and we will be happy to quote for your needs. We build PC's to your specification from the best quality components.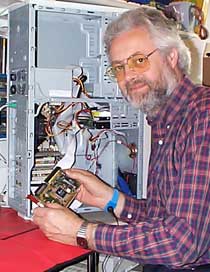 All too often sales staff tend to confuse their customers with computerspeak, our aim is to de-mystify computers and talk plain English, we are not out to baffle you with science, just to give you unbiased advice before you decide what to purchase. Everybody's needs are different. Solutions do not come off the production line.
After the initial excitement of the new purchase, clients are often left on their own to struggle with unfamiliar electronics or they feel confused by the complexities of new programs. At WCS we offer you full support.
Delivery and installation of your computer are part of our service. We can supply just about anything in the computer line from networks to printers, modems, scanners, TV cards, digital cameras, software etc..

We recognise that most people want a personal service. To this end we are geared up towards dealing with your problems at home or in the office at prices you can afford. We will, wherever possible, come out to you at your home or place of work.
All of us, even the most experienced, need to update our skills as new equipment and new software comes on line and the Internet gets more and more complex. We offer a personal tuition service. We give you the opportunity to acquire the skills you need in a non-threatening way, on your PC, at your home. You learn at your pace not the rest of the class! Years of teaching experience has shown us that people learn better on an individual learning programme.
For small business users working from home, we offer a computer and network installation service, maintenance of computer equipment and peripherals (printer, fax machines - anything connected to a PC), website design and internet connection.
We offer onsite as well as workshop repair and maintenance facilities.
Whatever your needs or problems - get in touch with us.
Prices and specifications are subject to change on a regular basis because of the volatile nature of the PC market.
If you are not sure what the latest prices are please ask, phone or e-mail for advice.